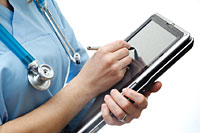 Wireless Applications in Healthcare:

EMR/HER
BCMA, carts
Guest access
Infusion pumps
VoIP (nurse call, nursing orders)
Video, patient surveillance
Telemetry and bedside monitoring
Location tracking services
Positive patient ID
Medication administration
When patient care is the goal, reliability is key. So how do we insure that Patient Care is not "at risk" when using unlicensed spectrum, such as WiFi? How do we design and deploy a network to meet the needs of my clinical staff and meet the HIPAA and other requirements to protect my patients? The evolution of WiFi devices in Healthcare answers those questions by increasing Doctor efficiency, helping hospitals turn beds, and improving the patient experience.
Contact us to Assess your current wireless or network infrastructure, or plan for your new network infrastructure.
How we can help:
1) WiFi and Network Infrastructure Assessments and Strategic Planning
2) WiFi and Network Infrastructure Survey, Design, Installation and Management
3) Wireless WAN Solutions for Primary and Redundant Facility Connectivity